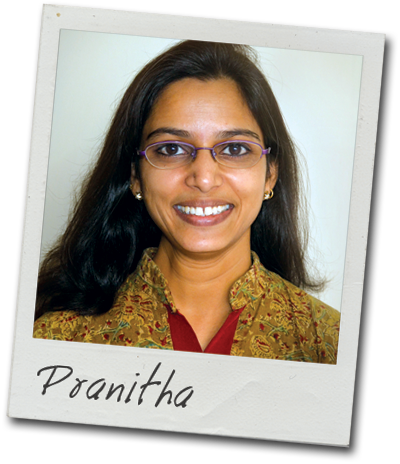 Gary Haugen: Leaders lead out of who they are on the inside.  Gloriously or tragically, you and I are going to end up leading out of who we are on the inside.
Pranitha Timothy rescues people out of literal slavery.  She has led more than 50 slave rescue operations with the Indian authorities and rescued nearly 4000 people from slavery.  That's nearly 4000 men, women, and children that Pranitha knows by name. Over and over again, she has stood up in court to expose these very violent criminals, and by the word of her testimony, justice comes, and she walks with those who are former slaves.
This work that she does is dangerous.  Every time she says goodbye to her family and goes on a rescue operation, she doesn't really know if she's going to come back.
What does it take to be a leader with that kind of strength and courage on the inside?  There's no one I'd rather have us learn from than my friend, clleague and most humble hero, Pranitha Timothy.
Pranitha Timothy:
I know that the restoration of people is not easy.  Two Americans have changed the course of my life.  One day at the end of my social work masters while sitting in a chapel, I was crying and asking God what to do with my life.  The chapel speaker was reading Isaiah 42, and I clearly heard God telling me this is what I was to do with my life.
1 "Here is my servant, whom I uphold,
my chosen one in whom I delight;
I will put my Spirit on him,
and he will bring justice to the nations.
2 He will not shout or cry out,
or raise his voice in the streets.
3 A bruised reed he will not break,
and a smoldering wick he will not snuff out.
In faithfulness he will bring forth justice;
4     he will not falter or be discouraged
till he establishes justice on earth.
In his teaching the islands will put their hope."
What a beautiful mission.  I heard God's call to be a light to the nations, to establish justice on earth, for those who are in captivity and darkness.
Weeks later I was diagnosed with a brain tumor that was choking my nerves.  I had lost 60% of of the strength in my muscles.  I had surgery but I could no longer speak.
I went back to Isaiah 42, which says, "He will not shout or cry out, or raise his voice in the streets."  I could not cry out, but I began working faithfully.  After two years, God gave me this voice, feeble but powerful in his hands.
It's been 15 years.  In my job I travel to the most dangerous parts of my own country.  BUt this physical pain has never left me.  But it reminds me that God's grace is sufficient for me.
But the restoring of my voice was not the greatest miracle I have seen, it was His renewal of my heart.  Growing up, my parents were missionaries, and I swore I would never become a Christian.  I hated Christ for separating me from my family and making me grow up in boarding schools.  I had no morality.  I was self-destructive through my addictions.
My nickname in college was CC, cold and calculated.  I was eventually expelled from college for my behavior. I had reached a place where nothing good could come out of me.  I realized in my brokenness that my only hope was the forgiveness of Jesus Christ.  I knew that I needed his power to overcome the darkness.  At last I embraced it.
The prophet writes, "God took this heart of stone and gave me the heart of flesh." Today I am able to feel emotion.  My calling is my response to the freedom I have in Christ.
God has transformed my heart through three truths.
We are called to serve.
God showed me very early in my work with IJM that I am no hero.  Time and time again I have heard stories of slaves who cried out to a God they did not know, and He sent our team.
I know I cannot do anything without God, but being humble does not mean God will not require anything of me that requires great strength.
This life belongs to God.
The proper source of strength and courage is not willful determination but to remember that my life is God's and my strength is his.
A few years ago my colleagues discovered this rice mill where dozens were enslaved by a cruel owner who beat them.  When we worked with the government to plan a rescue operation, someone tipped him off and he drove them away in a truck.  It was no hero's entry.  We arrived and no one was there. The IJM surveillance team went out praying for a miracle that only God could bring.  Truly by the hand of God they located the truck 14 miles away.  We thought it was over, but the authorities insisted they go back to the rice mill to identify their belongings.  The laborers knew the owners would kill them.  Sure enough, when we drove into the rice mill we were surrounded by a mob waiting to attack us.  The women and children began crying. They were afraid they would die.  They took away the keys and surrounded us.  ALl we could do was pray.  It is in these moments we must believe our lives are not alone.  I can tell you what happened next.  God confused the crowd.  And after a four hour seige, the mob cleared a path and allowed us to leave.  We were safe, the laborers were save, and we were able to bring laborers out of slavery into new lives of freedom.
There have been many times like this when my life was in jeopardy and thought I would never see my family again, but I remember that my life is not my own.
God is good.
It would be easy for me to tell you only of the victories, the stories that end in the way I hope they would.  But our faith must encompass a God who is good even when what we see in the world is not good.  When we see the lasting scars, when we see the pain that humans inflict on one another. When laborers are hidden away so we could not find them.  When former slaves succumb to illness.  Our belief that God is good underpins all of our rescue work and brings us hope that God can transform even the most hopeless cases.  We know our God is powerful to do anything.  We know he is good.  So we have hope.
We are still working with the people we rescued from the rice mill.  Their lives are no longer perfect.
This girl who was once cold and calculating was able to help rescue them.  God hears the cries of our heart because he is a God who is good.